Life Changing – NLP Training*
Feeling so much relief.*
NLP Training*
The skills taught in this course are useful in every aspect of my life. Knowing how to establish rapport, sell an idea, and even help finds and family resolve some of their issues (myself included) are hugely powerful tools I will use over and over again.
I read about NLP 25 years ago. Taking this class with the actual application and practice made such a difference. I feel that this weekend has set off many "light bulb moments" and the changes I feel already are amazing.
Transform yourself, your relationships and your communication skills with this hands-on training.
Benefits anyone working with people including Managers, Sales, Law Enforcement, Counselors, Health Care.
Get your NLP Training Practitioner & Master Practitioner training. Learn how to apply the skills in a practical way for your success personally and professionally.
For professional hypnotists, coaches & counselors, learning NLP skills will expand your capacity to help your clients.
How To Understand Yourself & Other People
Read people
Recognize behaviour, communication and learning patterns in yourself and other people. Learn how to use these patterns in a useful way, or change them to strategies that work better.
Communication Skills
Easily connect with people
Deliver your message in a memorable way
Enhance non-verbal communication & read body language
Build your flexibility to creatively influence others with integrity
Discover the secrets of excellent communicators
How To Achieve Your Goals
Learn how to develop a clear outcome
Develop your ability to adopt the attitudes and behaviors to achieve your goal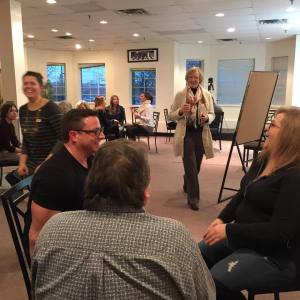 How To Be Resourceful
Learn how to choose the mood that works best for the situation at hand
Let go of unpleasant emotions and memories
Increase self-confidence
Build your capacity to get in the "zone" or peak state
Neutralize fears
Work Profiles
Find out how you and other people work best.
Gain insight into how to make wise business decisions about hiring, promoting, assigning work responsibilities, and career direction.
Use work profiles to help people work together more effectively.
Negotiation, How To Build Agreement & Sales Skills
Defuse conflict
Build rapport
Negotiate like a pro
Help others get what they want for a win-win
NLP Master Practitioner Training
If you have already completed your NLP Practitioner training, and you want to take your skills and experience to the next level, this training is for you.
Call us at 800-971-5774 to discuss your goals. We will customize your NLP Master Practitioner Training experience to suit you.
NLP Training & Certification
'I Would Do It Again & Again & Again'*
"I am 1000x more confident than I was before. It is truly amazing. I am bringing this with me for the rest of my life."*
NLP For Sales & Negotiation*
"This is fantastic. It allows me to negotiate more effectively. To close the deal."*
'It's A Relief – NLP Training'*
"From this point on, everything is just going to be easier without all the luggage I was carrying around."*
'Life & Relationships So Much Better With NLP Training'*
"If you are lucky enough to even be slightly aware that your life could be better, then this is the course for you."*
Upcoming Courses:
NLP Practitioner & Master Practitioner Training Dates:
Friday June 2 – Monday June 5 2022, 9 AM – 5 PM
Friday Nov. 17 – Monday Nov 20, 2023
Attend At Our Risk…Not Yours
If you are not satisfied with your training by the end of the first morning, you will receive a full refund, no questions asked.
Space is limited to maximize student learning – so register early!
NLP Training Registration & Policies
Admission Requirements: Prior to admission, students are required to complete an application and attend an interview in-person or by phone. To register for hypnotism training, NLP neuro-linguistic training or mentorship, please call 800-971-5774.
**Hypnosis and Neuro-Linguistics certification is not granted until all assigned projects are completed. This includes execution of techniques by the student.
Hypnosis Training Canada, Robbie Spier Miller and the Master Hypnotist Society Canada reserve the right to refuse any student based upon scheduling and availability of Robbie Spier Miller as trainer.
All students must be at least 18 years of age, and have completed secondary education or equivalent.
If you are unable to make the training dates you registered for, you may make up any missed training days at one of our future trainings. We do not offer refunds for missed training.
We encourage students to complete their post training course work within 6-8 weeks to maximize their learning and integration of the material. All coursework must be completed and submitted to Hypnosis Training Canada at the very latest 2 years from the commencement of training for students to be eligible for certification.
Being in sales, the NLP helped me understand & better apply techniques when working with clients to help the client realize their outcomes.
I came into this class believing I lacked focus and concentration. I thought I was bound by a story of "what happened", and it had started to define me. I quickly and easily learned that I had the ability to learn, focus, concentrate, participate and feel different. As a result I am sleeping better, I feel more energetic, I am able to handle stress better.
I loved working with Robbie at the NLP training. She helped me see areas that were contradicting my mission. I don't know if I could have made this discovery without her feedback. NLP techniques are simple, fun and easy to learn. Plus they really make a lasting change.
For both hobbyist or career track student. Your opportunity to enjoy learning hypnosis for wellbeing, happiness and success.
Friday July 14 – Monday July 17, 2023, 9 AM – 4:30 PM
Friday Nov. 3 – Monday Nov. 6 2023 9 AM – 4:30 PM
Friday April 5 – Monday April 8, 2024, 9 AM – 4:30 PM

Friday Sept. 22-25 2023, 9 AM – 4:30 PM
Friday March 31 – Monday April 3, 2023, 9 AM – 4:30 PM
Friday July 14 – Monday July 17, 2023, 9 AM – 4:30 PM
Friday Nov. 3 – Monday Nov. 6, 2023 9 AM – 4:30 PM
Friday June 2 – Monday June 5 2023, 9 AM – 4:30 PM
Friday Nov. 17- Monday Nov. 20 2023, 9 AM – 4:30 PM
Friday February 23 – Monday February 26, 2024
9 AM – 4:30 PM
Saturday May 13, 2023, 9 AM – 4:30 PM
Pre-requisite: Neuro-Linguistic Programming Practitioner Certificate.
Friday June 2 – Monday June 5 2023, 9 AM – 4:30 PM
Friday Nov. 17- Monday Nov. 20 2023, 9 AM – 4:30 PM
By Invitation Only
Space is Very Limited
Book Your Admissions Consultation